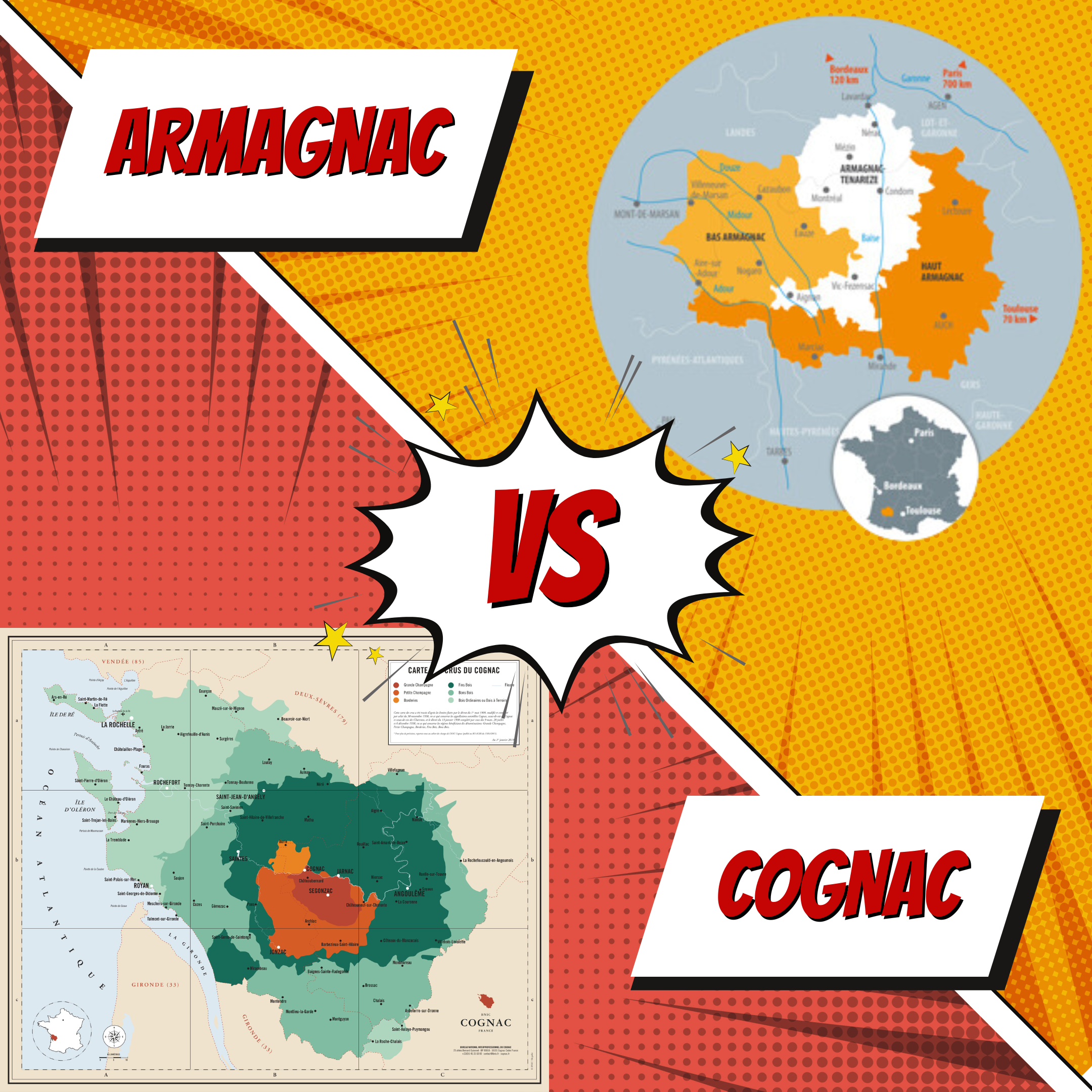 Cognac and Armagnac are French spirits whose first common feature is that they both have their own AOC. They are often compared, or even opposed, due to their similarities and differences in aromas, radiance, and production methods… here is a quick overview to shed some light on the subject.
The production area
Cognac and Armagnac have been produced in south-western France in defined zones since 1909. Cognac production is delimited by a production zone of 6 crus extending from L'Ile de Ré to La Roche-Chalais. The best grapes are grown on clay-limestone soils, benefiting from mild temperatures and oceanic humidity. Armagnac, on the other hand, is produced in a smaller area delimited by 3 crus, extending from the Landes to the Gers. The best grapes are grown on sandy soils and benefit from a warm climate.
Production
The Cognac appellation covers 83,140 hectares of vineyards, with 4,413 winegrowers and distillers (1), 265 negociants, 119 distillers, 17,000 direct jobs and over 60,000 people making a living from Cognac. Armagnac production covers 5,300 hectares of vines for 733 winegrowers, 40 negociants, 682 active producers accounts and 164 active merchant accounts. In terms of annual bottles production, Cognac is well ahead, with 212.5 million bottles by 2022, compared with 3 million bottles for Armagnac.
These volumes need to be put into perspective with the presence in Cognac of leading brands owned by major groups, true engines for promoting cognac: Hennessy (LVMH), Martell (Pernod Ricard), Rémy Martin (Rémy Cointreau), Courvoisier (Suntory). They accounted for 83.5% of volumes in 2008.
Grape varieties
Cognac is produced with Ugni Blanc, the major grape variety, accounting for 98% of the vineyard. Next come Folle Blanche and Colombard, which account for 2% of the total vineyard, and more recently, Follignan (grown at Domaine de La Pouyade).
For Armagnac, the major grape variety is still Ugni Blanc with 55% of the surface area. Then come Baco (30%), Colombard and Folle Blanche (5% each) and finally, 6 other grape varieties share the last 5% (Jurançon Blanc, Blanquette, Mauzac Blanc, Clairette de Gascogne, Meslier Saint François, Plant de Graisse). This is due to the tradition of the region, which also produces many wines, including the highly reputed Tariquet (8m. bottles) or Uby brands. The production of Charentais I.G.P. wines, on the other hand, is rather minor, but is developing and becoming increasingly organized.
Elaboration
Champion of double distillation, the AOC Cognac includes almost 3,000 Charentais stills, which are used until March 31st of the year following the harvest to distill the wine used to create Cognac eau-de-vie. To be distilled, the wine must contain between 9% and 12% alcohol by volume. To obtain 1 liter of eau-de-vie from the still, 9 liters of wine are required. Two heatings are necessary to obtain Cognac eau-de-vie grading between 70.6° and 73.6° vol. These distilleries are nowadays also used now for other local production such as whisky, vodka, gin… (hence the name Spirit Valley).
Armagnac has 120 stills. Distillation is single in a continuous Armagnac still, which is Armagnac's specialty (although double distillation has also been authorized since 1972). When it comes out of the still, Armagnac eau-de-vie is between 52 and 60% vol. This is lower than Cognac, but equally rich in aromas.
Ageing
The aging of Cognac and Armagnac is similar at first glance, as both are aged in Limousin oak barrels for the most part, and to a lesser extent in oak barrels from the Tronçais forest. For Armagnac, the other alternative is aging in Gascony black oak, which, thanks to its tannins (2), adds spice and color to the eau-de-vie.
Finally, Armagnac also has its own AOC for its unaged version: Blanche Armagnac, created in 2005, whereas Cognac cannot benefit from the Appellation without a min ageing of 2 years.
Tasting aromas
This is the magic of French know-how and the richness of our traditional spirits, because despite some similarities, Cognac, and Armagnac both have their own range of aromas. It is not just the region that expresses itself, but also the ancestral know-how of the choices made: vinification, distillation, casks, blending… So many components that can influence taste and guarantee diversity.
Cognac and Armagnac have similar characteristics, depending on the degree of maturity of the eau-de-vie: prune, orange peel, quince, cocoa, almond, fig, walnut, spices, natural sweetness with rich, complex textures.
The most frequent aromas and characteristics are relatively more delicate in cognac, due to double distillation: flowers, citrus, peach, dried fruit, and a texture that is lighter overall, but rich and long-lasting.
Remember that tasting is very subjective, so we strongly recommend that you make up your own mind, why not among these fine houses with whom we share values, experiences, distribution, or travels over time, for examples:
Glossary:
(1) Person authorized to produce their own eaux-de-vie on their own production site.
(2) Amorphous substance widely found in the wood, bark, leaves and/or roots of many plants.
Sources:
https://www.sudouest.fr/charente/cognac/cognac-les-quatre-premiers-negociants-intouchables-10038452.php
https://www.heavenlyspirits.com/pos-materials/training-materials/
https://armagnacnews.com/bons-chiffres-de-larmagnac/
http://www.armagnac.fr/les-parfums-de-l-armagnac